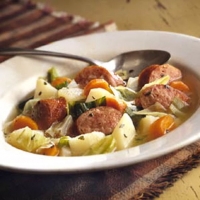 (photo courtesy of Group Recipes.com)
I have been trying to use up what is in my freezer and I came across a package of Kielbasa. Since I wanted to make this in my crock pot, I started googling. This is what I located at Group Recipes:
Slow Cooker Kielbasa Stew
4 cups coarsely chopped cabbage

3 cups peeled, cubed potato

1-1/2 cups sliced carrots

1 pound cooked kielbasa, sliced

1/2 teaspoon dried basil, crushed

shopping list

1/2 teaspoon dried thyme, crushed

1/2 teaspoon ground black pepper

2 14-ounce cans reduced-sodium chicken broth
In a 4- to 5-quart slow cooker combine cabbage, potato, and carrots. Top with kielbasa.
Sprinkle basil, thyme, and pepper over kielbasa. Pour chicken broth over all.
Cover; cook on low-heat setting for 7 to 9 hours or on high-heat setting for 3-1/2 to 4-1/2 hours.
Doesn't it sound delish?? What have you made in your Crock pot lately?